Twice a month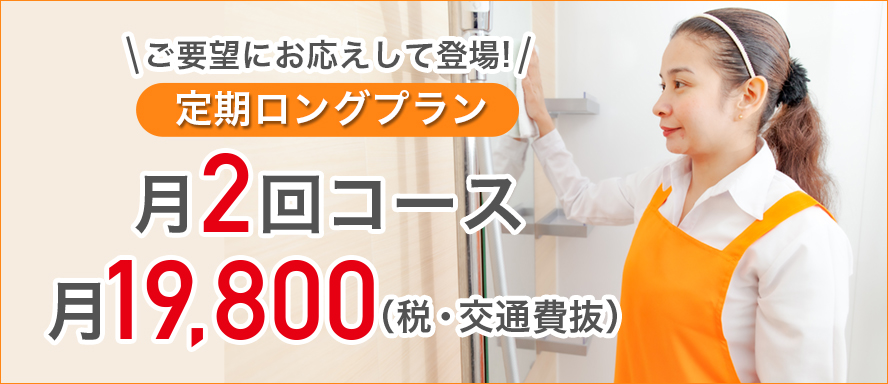 This regular plan allows you to fully customize your own housekeeping service with the same housekeeping staff. Reflecting on an increasing need of a more flexible-time plan at a more reasonable price, we have provided the Twice-A-Month Regular Plan. This monthly price will suit those who were reluctant to use our service before. We will strive to fulfill your needs by providing the best cleaning service.
Messages from Clients
「Busy with Parenting Duties」
I was desperate to take care of chores as well as caring for the kids. Although I considered using a once-a-week regular plan, it was sort of out of my budget. This twice-a-month plan perfectly fit my needs. Pinay created more time for me so I could spend it with my family.
「Tired of Booking at A One-Time Schedule Online in My Convenience」
I like Pinay service for my one-time use, but I was so lazy to book at time on the Pinay scheduling system online and have different housekeepers every time. This twice-a-month plan allowed me to request the same housekeeper. The frequency of service was suitable for me as well.
Price
Twice a month
3,300yen / hour* (Fixed 3 hours for this service)
・Available while you are not at home.*1 ・kids pick-up is available.*2
* The above monthly price excludes transportation fee and tax. * The transportation fee for our housekeepers costs 900 yen each time of service. *1 510 yen as key deposit (tax included) is required for the service while you are not at home. *2 We can pick up kids by only public transportations or walk.
Services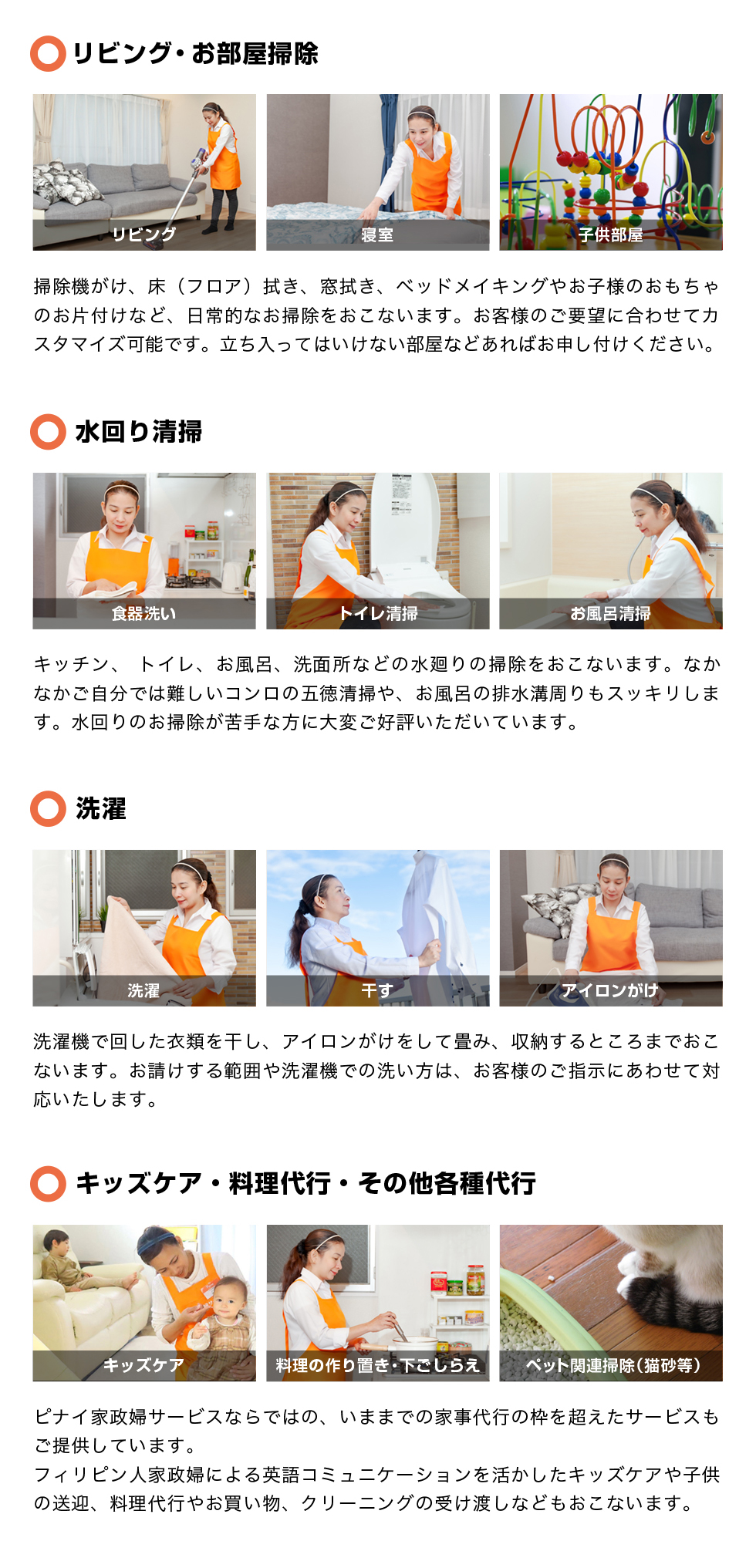 よくあるご質問
Q.

What is Pinay Housekeeper like?

Pinay housekeepers are full-time workers based on Labor Standards Act in Japan. They are selected for their professional work experience and are trained in a full support training based on a well-managed program. All Pinay housekeepers are capable of speaking Japanese and English. Their approachable and hospitable character will fit to everyone's needs.
Q.

What is Twice-A-Month Regular Plan about?

We will provide our service for fixed 3 hours. You can customize your own housekeeping service in your convenience. Please feel free to contact us.
Q.

Service Areas

We have service mostly around Tokyo, Yokohama city, Kawasaki city and Kamakura city in Kanagawa. Please feel free to contact us to check if your location is available.
Q.

Is this service available while I am out?

Yes, this service is available while you are not at home. 510 yen as key deposit (tax included) is required. Or please tell us how housekeepers can get your keys each time of our service.
Q.

Can I have the same housekeeper?

Yes, you can have the same housekeeper except for some conditions. Please feel free to contact us for more details.
Q.

Can you tell me the process of using this service?

Please check the following service guideline. ・Step 1 Application Pls tell us about your needs. ・Step 2 Consultation We will contact you over the phone and talk about the details of your service. ・Step 3 2-Hour Cleaning Trial A Pinay concierge and a housekeeper will visit your house for the 2-hour cleaning trial. ・Step 4 Service Contract Your service will start after you sign the contract form. You can change the details of the service to suit your needs. Please consult with us by e-mail, phone call or LINE.