Professional Technique vol. 3 〜Kitchen Time Saver〜
〜Kitchen Time Saver〜
Hello! This is Pinay housekeeping service training team.
We introduce cleaning technique used by our housekeepers in practice every Friday.
Unlike cleaning your own house, housekeepers have a set time frame.
`Time saving` is one of the most important thing in their tasks.
How far can they get done in a set time frame?

Today, we will introduce you to their tricks.
A time savor in the kitchen! `Senzai Brush` (detergent brush)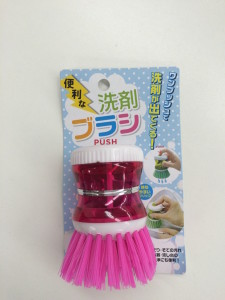 We are not sure if you have heard of this product.
FYI, there was nobody who knew about it inside our office….
You can add detergent inside the transparent part.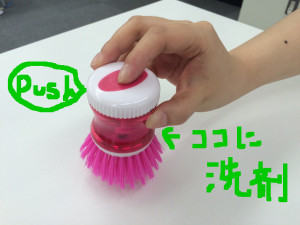 Whoever invented this product is a genius.
When you push the button on the top, the detergent is dispensed towards the brush
and you can start washing the sink.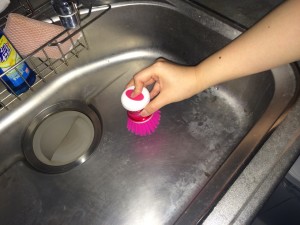 Very easy!
Perhaps a lot of you use 2 separate sponges for the plates and for washing the sink,
but with this one brush, you can immediately get to cleaning.
We can keep our kitchen clean at all times.
To purchase, go to a 100 Yen Shop nearby!
By the way, you can also use this product to spot clean your shirts.
Do you know how your collar and sleeves tend to get dirty easily?
Use this product for pinpoint cleaning.
This time saving trick will help you clean efficiently.
How did you like the technique we introduced to you today?
Being able to clean up efficiently will save us some time. It is a secret to live an abundant life.
We will see talk to you all next week!