Minato | Housekeeping service guide
Minato | Housekeeping service guide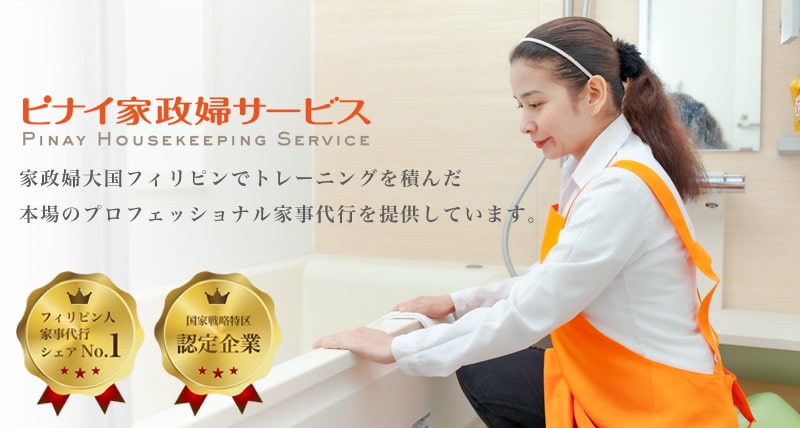 Here is some useful housekeeping services for you. This page is especially for those who live in Minato-ku.  Pinay will fit to everyone's needs.
About Our Service
Licensed from Government
Pinay Housekeeping Service is an officially authorized enterprise as part of The National Strategic Special Zones policy. We will provide you highly qualified housekeepers based on a well-managed training program.

Pinay Quality
Well-Experienced Staff for High-Profile Clients 

The Philippines is well known as a country that provides top quality housekeepers as a national industry. With full support training based on a well-managed program by Pinay in the Philippines and Japan, it will perfectly fit your preferences. 

ONLY Filipina Housekeepers

We consistently provide only Filipina housekeepers as they are capable of outstanding hospitality and are quite dedicated. We will also help you create an English-speaking environment in terms of English education for kids.

Sufficient Service Plans

A variety of service plans will fit your needs. As well as regular monthly plan, one-time and occasional help will also be available. 
Service in Minato-ku Area
As of now, there are clients who would like to have foreign housekeepers as part of English education for kids. They need Pinay service so that they can spend more time with their families. There are other reasons including the following: 
① Clients want to build an English-speaking environment.
② Clients need to maintain clean rooms as well as wanting to spend more time with their family .
③ While parenting, clients need their own personal time for leisure.
Service Plans
Regular Plan


Regular Plan

You can fully customize the frequency, hours and types of service. 

Price

Service Plan
Price


(before tax)

Monthly Price
Once A Week

(minimum 3 hours of more per day)

3,300

yen/ hour※

42,570

yen※
Twice A Week

(minimum 3 hours of more per day)

3,100

yen/ hour※

79,980

yen※
3 Times A Week or More

(minimum 3 hours of more per day)

3,000

yen/ hour※

116,100

yen※
※ You can customize your plans for more than 3 days. Please feel free to contact us. 
Options
・Available while you are not at home.*1 
・kids pick-up is available.*2
Services

● Daily Cleaning(bathroom, kitchen, toilet, vacuuming, wiping floor and windows, taking care of gardens. )

● Organizing(We can organize items in your rooms and clothes in your closet.)

● Laundry(We can wash, hang, fold and iron your clothes.)

● Run Errands(We can help you shop and accept deliveries in your home.)

● Cooking(We can help you make dishes or cook them from scratch in your kitchen.)

● Kids Care & English Conversation for Kids(We specialize in communicating with your kids in English as well as provide kids care.)

payment

Credit card payment

* The above monthly price excludes transportation fee and tax.  * The transportation fee for our housekeepers costs 900 yen each time of service.  *1  510 yen as key deposit (tax included) is required for the service while you are not at home.  *2 We can pick up kids by only public transportation or walk.  

■Service Guidelines

○Step 1 Application

 Please tell us about your needs.

○Step 2 Consultation

 We will contact you over the phone and talk about the details of your service.

○Step 3 2-Hour Cleaning Trial 

 A Pinay concierge and a housekeeper will visit your house for the 2-hour cleaning trial.

○Step 4 Service Contract

 Your service will start after you sign the contract form.  You can change the details of the service to suit your needs.  Please consult with us by e-mail, phone call or LINE. 
Minato-ku Area Information

Minato-ku is surrounded by major enterprises and located nearby commercial district zone of Akasaka and Aoyama. Accessible to Azabu and Shirokane for leisure. A large number of foreign residents reside around foreign embassies and corporations. Terminal stations of Shinbashi and Shinagawa attract people for a variety of restaurants in a lively neighborhood. Railways give you a great access to the greater Tokyo area. 
Pinay Housekeeping Service Distribution Analysis
The above official resource consists of a wide range of generations. Importantly, residents in their 30's and 40's account for about a two-thirds majority here.   Because parenting duties can be hectic, they also need to make their living. Through parental perspective, thinking of ways to take care of their kids will probably be draining their energy. Pinay housekeeping service will greatly help you do chores while you are out of house at your convenience. 
Evidently, most of Pinay users prefer to have the service on a regular basis.  Many walk-in users have turned into regular users through Pinay service over the past years. You can try Pinay cleaning trial or one-time service to consider your use.
Majority of clients from Akasaka and Azabu are served by Pinay here.  Specifically, as you see, the service of pick-up and drop-off for kids has a significant spike in the morning rush hour, followed by early afternoon. This means there is a need to prioritize their children. Pinay housekeeping service will be a big help to you.
Messages from Clients

(Female)
Minato-Ku
Now, I am using twice-a-week regular plan.   I and my husband own a business and manage to squeeze in time for ourselves.  It was common sense to start using Pinay.  I was like a bit anxious about them at first, but I was impressed with their service. Pinay services stood out from other housekeeping companies. I like my housekeeper very much.
Service Plan:
Regular Plan
Since:
August, 2017
| Structure | Plan | Frequency | Evaluation | Service |
| --- | --- | --- | --- | --- |
| 2 children  | 3 hours/ day | once a week | | kitchen, bathroom, toilet, laundry, entrance, living room, balcony, washing stand. |

(Female)
Minato-Ku
I live myself nearby my mom's home.  She can barely stand and move without assistance  so I asked Pinay service to help her. Nowadays, my housekeeper disinfects her rooms everyday because of the Corona virus. It's tough to balance assisting my mom and my own job day and night. Every time I come home, I feel relieved.
Service Plan:
Regular Plan
Since:
January, 2018
| Structure | Plan | Frequency | Evaluation | Service |
| --- | --- | --- | --- | --- |
| couple | 3 hours/ day | once a week | | kitchen, bathroom, toilet, laundry, living room, washing stand. |

(Female)
Minato-Ku
I and my wife have a very hectic schedule. We just wanted occasional help for the upcoming New Year's party. A friend of mine introduced Pinay to me because she liked it. Service-wise, the housekeeper worked well and she was so time-efficient. It was like she cleaned triple the area on our work lol. So cool. We had a Filipino housekeeper before, but Pinay is more approachable to us I suppose. 
利用中のサービス
定期ロングプラン
利用スタート時期
2017年12月〜
| Structure | Plan | Frequency | Evaluation | Service |
| --- | --- | --- | --- | --- |
| couple | 2 hours/ day | once a week | | kitchen, bathroom, toilet, cooking assistance. |
Service Area in Minato-ku
akasaka azabujyuban azabudai azabunagasakacho azabumamianacho atago kaigan kitaaoyama konan shiba shibaura shibakoen shibadaimon shirokane shirokanedai shinbashi daiba takanawa toranomon nishiazabu nishishinbashi hamamatsucho higashiazabu higashishinbashi mita minamiaoyama minamiazabu motoakasaka motoazabu roppongi
Service Area in Tokyo
Chiyoda Chuo Minato Shinjuku Bunkyo Taito Sumida Koto Shinagawa
Meguro Ota Setagaya Shibuya Nakano Suginami
Toshima Kita Arakawa Itabashi Adachi Katsushika Edogawa Nerima
Other Tokyo Areas 
Musashino Mitaka Chofu Komae Fuchu Kunitachi Kokubunji
Tachikawa Koganei Kodaira Nishitokyo Machida Tama Inagi
Service Area in Kanagawa
Yokohama City : Naka Minami Nishi Midori Aoba Kohoku Asahi
Kanagawa Tsurumi Tsuduki Hodogaya Izumi
Isogo Kanazawa Konan Sakae Seya Totsuka
Kawasaki City:Kawasaki Takatsu Saiwai Aso
Nakahara Miyamae Tama